Nautilus Trips Wordpress Plugin
We're excited to announce the brand new Nautilus Trips Wordpress plugin! This plugin enables your customers to find and book trips directly from your website.
The Nautilus Trips plugin makes it as easy as 1, 2, 3 to sell more trips with Nautilus Liveaboards.
3. Set the API Key and add the page to your website!
That's It! With the plugin installed and configured on your site, people visiting your website will have the best way to find out about Nautilus Liveaboards trips. You may want to add another page or pages to your site describing the trips in more detail and adding your marketing strategy.
Nautilus Trips Plugin Overview
Version: 1.0.2
Wordpress Version: 4.6 - 5.0.3
Published: September 18, 2019
Publication Status: Official
License: GPLv2+
Download the latest version of the Nautilus Trips Plugin here or search for "Nautilus Trips" in the Wordpress plugin directory.
SHA1 Checksum: 90fc97a8709edc9495b3aa9a0bee3825d1ba269b
The Nautilus Trips plugin allows you to list all or a subset of trips offered on the Nautilus Liveaboards vessels. These trips offer the best big animal liveaboard scuba diving experiences in the world. From the giant manta rays of Socorro Island to the great white sharks of Guadalupe Island and bull sharks at Cabo Pulmo, these trips are second to none!
Display all available Nautilus Trips or select a subset of trips by vessel, destination, year, or month.
Allow your website guests to see Nautilus Liveaboards availability and to book a trip any time of day or night.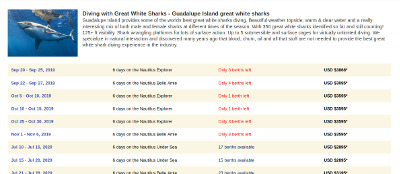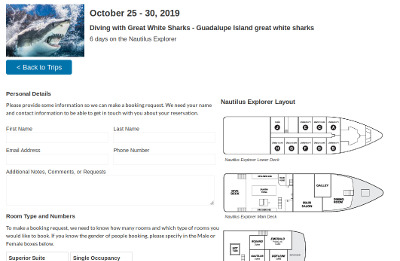 Plugin Requirements
The plugin requires you to be an approved Nautilus Dealer. If you are not already an approved Nautilus Dealer, you can find out more and apply to become a dealer on our contact page by choosing "I want to become a Nautilus Dealer". Dealers are typically tour operators, travel agencies, or scuba dive shops that offer trips to their customers.
There is no charge in becoming a Nautilus Dealer but we do get in touch to verify contact information and to get to know our dealers.
Software Requirements
Nautilus Trips has been tested on the latest version of Wordpress at the time of development and update. This plugin was developed for Wordpress 5.2 and later but if your web host has the required php modules installed this should run on older versions of Wordpress as well. If you have issues with the plugin on your website, please let us know through our contact form.
This plugin should run on any standard Wordpress website.
Plugin Configuration
The following fields are required for proper operation of the Nautilus Trips plugin:
Nautilus Dealers API Key
Email Address for Booking Requests
If you've got a Nautilus Dealers account, you can find or create your API key from the API Access page. You will need to enter this API key in the plugin settings page in Wordpress Admin along with an email address to receive notifications when a booking is created through the plugin.
The plugin will generate a notification if your Wordpress site is properly configured to send email. You will also receive a Booking Confirmation message from the Nautilus Liveaboards reservation system for every successful booking.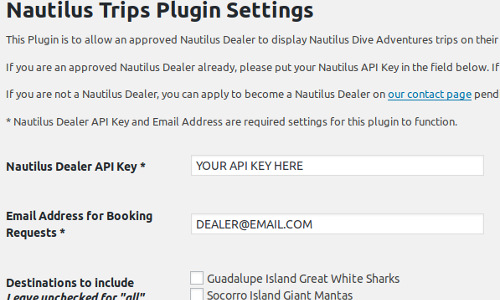 All additional fields and checkboxes are optional. If you leave the checkboxes unchecked the plugin will display all trips with berths available. Specifying any of the destinations, vessels, years, or months will display only available trips matching the parameters selected.
Sell Trips!
Now that you've got the plugin installed and configured, you are ready to sell trips. The plugin page